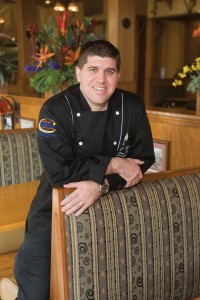 Chef Chuck Harris CCC is one of the first hospitality Alumni of Lamar University. Chuck received a Bachelor of Science degree in Family and Consumer science, specializing in Hospitality Management. Chuck is still very active in the program and through the Texas Chefs Association,and the
American Culinary Federation, he promotes the growth of the school. He serves on the Culinary Board at Lamar and is a member of the Texas Chef's Association and a member of the Sabine Area Restaurant Association.
Harris began his career as Chef at David's Upstairs and later became Sous Chef at the Beaumont Country Club. While serving as Chef and manager at Monaco'sItalian Restaurant in PortArthur, Monaco's was voted best restaurant in a 2000 readers Poll. From there Harris was named the Executive Chef at Holiday Inn Plaza in Beaumont. It was voted "Best banquet Facility" in 2001,2002,2003 and 2004. In 2005 Harris was named Chef of the Year by the Golden Triangle Chefs Association. Harris then assumed a position as Chef De Cuisine with L'auberge Hotel and Casino at Jack Daniels Bar and Grill. He was quickly promoted to Executive banquet Chef, winning several awards there as well. In 2008 Harris opened Spindletop Steakhouse and again was named Favorite in Chef and restaurant categories from various polls.
In 2009 Harris was selected to represent the state of Texas in the Great American Seafood Cook Off that was aired on Food network where he placed respectfully in the top five. He was also selected to compete in "Chef's Under Fire" and placed second in the Houston Region.
Chef Chuck Harris is very active in sharing his passion with the community. He can be found doing demonstrations, teaching cooking classes, offering his expertise in event planning as well as commercial restaurant consultations.
What ever event you have planned, Chef Chuck Harris CCC can deliver; everything from an intimate dinner for two, to a gala for 2000.